James Handley's

Grave Stone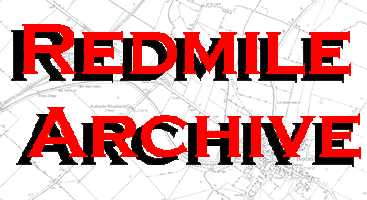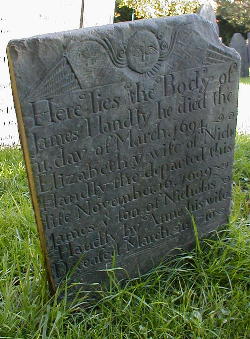 James Handley died 11 day of March 1694.
This poem is on the reverse of his headstone and reads:
This world it is a city full of crooked streets
Death is a market place where all men meet.
If life were Marchandice that men could buy
Rich men would ever live and poor men die. James Handley allegedly wrote the poem himself, however
there is an earlier example at Elgin Cathedral dated 1687:
This world is a cite full of streets
& death is the mercat that all men meets
If lyfe were a thing that monie could buy
the poor could not live & the rich would not die.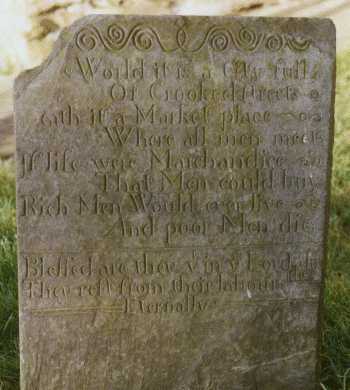 Another example is at Hickling, Nottinghamshire on the headstone of John Smith who died in 1725, where there may be a connection via the stonemason as the 'Belvoir angel' stones were thought to have been carved by a stonemason at Hickling.
The origin of the verse, according to Frederick Burgess in English Churchyard Memorials, is composite. The first two lines deriving from the old ballad of Death and the Lady, the last couplet from an epigram in Wootton's Remaines, and also The Two Noble Kinsmen.
The verse is reputedly famous throughout socialist circles and may have been quoted in Russian books.
A John Handley was churchwarden at Redmile and his name is recorded in the register started on 5th November 1663 at the time Thomas Daffy was Rector. John Handley jnr. and snr. are recorded on the Hearth Tax returns 1664, which suggests they were in comfortable circumstances.
The stone is located on the left, second row back, as you leave the church.