George and John Bishop

Redmile Longcase Clockmakers
Pictured top left is a plain cased 30 hour brass dial clock engraved Bishop REDMILE. Centre is a white dial clock in the County Museum collection. Bishop Redmile suggests a later clock in line with the change of style from engraved to painted dials. The clock on the right has the less familiar round dial and case aperture. Below is detail of a typical George Bishop dial, the spandrels suggest it was made around 1770.
George Bishop moved to Redmile in 1762 with his wife Mary. The Parish Register records the baptism of nine children, seven girls and finally two boys. John, the penultimate child followed his father's trade recorded at their deaths in the register as clockmaker. George died in 1805 at the age of 72. John died soon after in 1809 at the age of 34.
More tangible evidence of their presence are the twenty seven grandfather, or longcase clocks discovered to date (August 2009). Nineteen with the distinctive brass or silvered dial. Most of the brass dial clocks are engraved George Bishop (in script) and REDMILE (in bold block upper case), although there are exceptions.
The remaining eight clocks have the later painted or white dials. Known examples of the painted dials, have Geo. Bishop, Jn. Bishop or just Bishop, as the example above, a clock in the custody of Leicestershire County Council Museum Service.
There are ninteen 30 hour clocks and eight 8 day with two of the 30 hour dials pretending to be 8 day with the engraving of false winding holes. The dials and cases are generally plain and simple village clocks.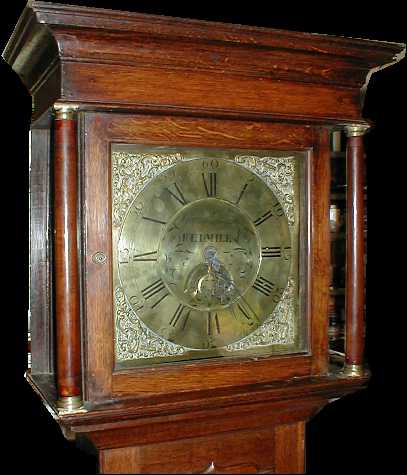 If you have a clock by either George or John Bishop we would be pleased to hear from you. Equally if you have family connections with the Bishops of Redmile or Asfordby please contact us at 1, Main Street, Redmile, Nottingham NG13 0GA. Or email us at redmilearchive(at)freeuk(dot)com. We are already aware of a descendant from George and Mary's youngest daughter who married Robert Newcomb of Redmile in 1797.
For general reading about provincial clockmakers, including George & John Bishop see Hugh Watson's book on clock and watchmaking in Grantham 'Keeping Time' is a history of clockmaking in Grantham from 1700 to 1900.