Pictured top left is a plain cased 30 hour brass dial clock engraved Bishop REDMILE. Centre is a white dial clock in the County Museum collection. Bishop Redmile suggests a later clock in line with the change of style from engraved to painted dials. The clock on the right has the less familiar round dial and case aperture.
George Bishop moved to Redmile in 1762 with his wife Mary. A settlement certificate lodged at the Leicestershire Records Office confirms this. They moved from a village just a few miles along the Vale of Belvoir. After much searching we were able to find the baptism record for George in a parish register. George Bishop, clockmaker of Redmile was born in Hose Leicestershire in 1733 making him 29 years old when he moved to Redmile. His father was also George Bishop who married Elizabeth Peak at Asfordby on 29th April 1731. The family had long resided in Asfordby others have researched further back. Our interest is with their time in Redmile.
The Redmile Parish Register records the baptism of nine children, seven girls and finally two boys. John, the penultimate child followed his father's trade recorded at their deaths in the register as clockmaker. George died in 1805 at the age of 72. John died soon after in 1809 at the age of 34. They are both buried in Redmile churchyard but sadly there is no memorial to identify their resting place.
More tangible evidence of their presence are the forty nine grandfather, or longcase clocks discovered to date (December 2017). Thirty have the distinctive brass or silvered dial. Most of the brass dial clocks are engraved George Bishop (in script) and REDMILE (in bold block upper case), although there are exceptions.
The remaining clocks have the later painted or white dials. Known examples of the painted dials, have Geo. Bishop, Jn. Bishop or just Bishop, as the example in the custody of Leicestershire County Council Museum Service.
There are 30 hour and eight 8 day movements. Some inspected clocks could be later marriages with, for example an arch top added to the dial which would require a new case. We have seen 8 day clocks with winding holes that spoil the engraving suggesting a later upgrade from 30 hour. Some have engraved winding holes, 30 hour dials pretending to be 8 day, and then upgraded to 8 day movements so needing real winding holes. The dials and cases are generally plain and simple village clocks.
It would be a great joy to us if we could discover one more clock to make our total 50 so if you do have a clock by George or John Bishop we would be delighted to hear from you.
We are most grateful to the owners who have made contact over the seventeen years of our investigations and especially appreciative of those owners who invited us to view their clock. While we will not divulge the location of clocks we are sure owners will not mind if we share with you some of the pictures.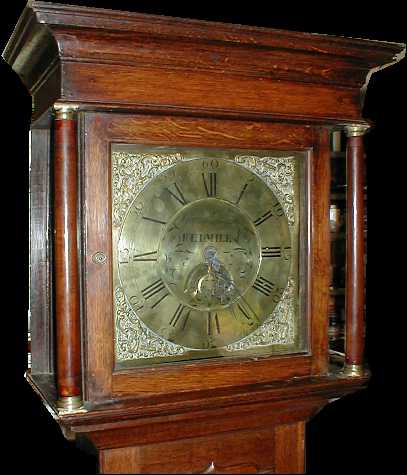 A 30 hour rope driven movement with brass saving measures and iron pillars.The spandrels suggest it was made around 1770.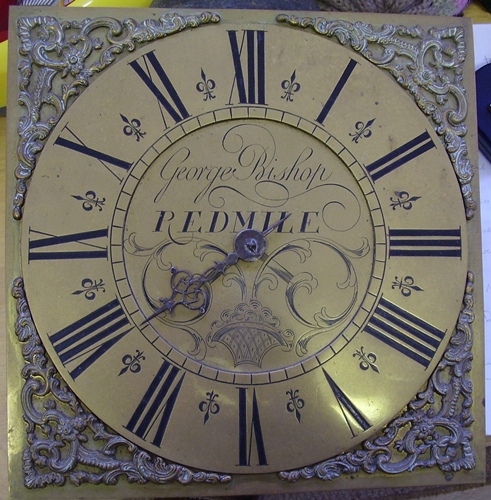 Single hand clock with correct quarter hour divisions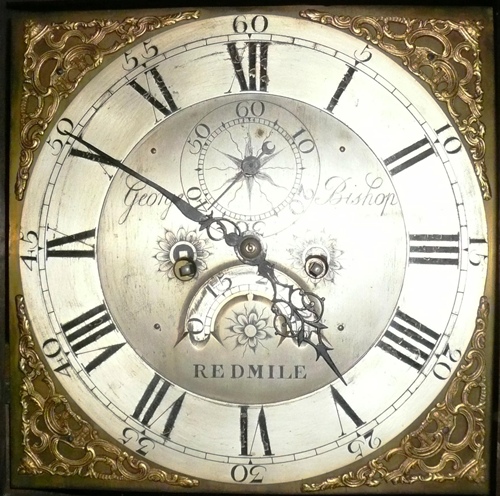 An updated 30 hour which masqueraded as an 8 day but was then upgraded. Note the false and real winding holes.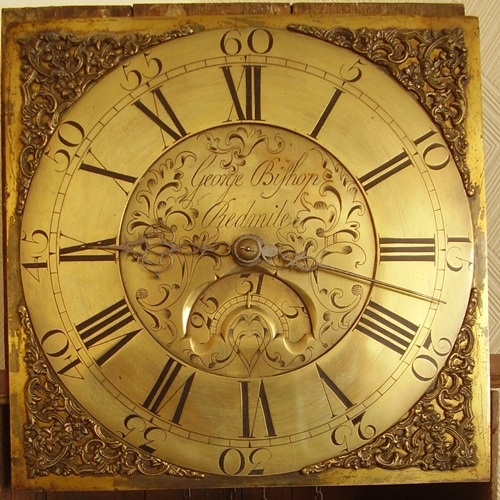 Not so common Redmile in script but a typical large calendar aperture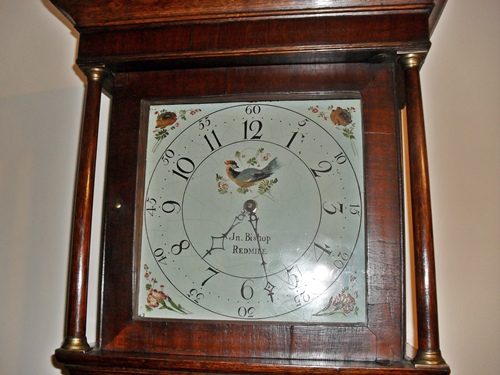 This later painted dial is typical of many featuring an unidentifed bird.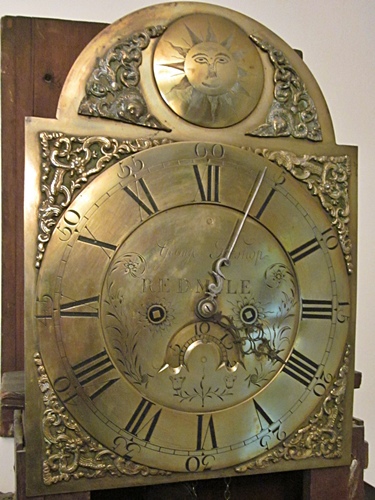 An original arch top (single piece) dial with false winding holes.
If you have a clock by either George or John Bishop we would be pleased to hear from you. Equally if you have family connections with the Bishops of Redmile or Asfordby please contact us by email at redmilearchive(at)freeuk(dot)com OR redmile.archive@gmail.com.These are not hyperlinks you will need copy amend and paste.
A booklet published in 2001 offers more details of the family history and their time in Redmile. Contact us to order a copy.